Fall Fest is this weekend!
Fall Fest kicks off on Friday night at 6:00pm - all pre-sale tickets will be availble for pick-up at the St. Paschal School Booth starting at approximately 5:45pm. Please bring your photo ID for pick-up.
Fall Fest Needs Your Help
Do you have an hour or two free October 20, 21, or 22? If so, Fall Fest is looking for volunteers to assist in food prep, selling tickets, and game booths. This year we are using Sign Up Genius to gather all of our Fall Fest Volunteers.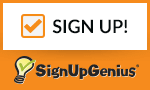 Car Raffle Time

Tickets are now available after mass and through the Parish Center. For more information on the raffle and its prizes check out our webpage HERE.
Congratulations to our Early Bird Drawing Winners, The Reardon Family
One Sunday evening October 8th The Reardon Family of Thousand Oaks won our Early Bird Drawing and took home $1500.00.